You really can't see much from the seat of a car.
The getting out and getting started is the hardest part. But once you start, you can't stop 'cause you see things you couldn't see in the car.
It takes some effort, a will to see, and a bit of courage to make great images. What we see from the drivers seat is usually not going to be nearly as good as the view we get when we walk around the subject.
All of a sudden the world seems different. You'll be amazed at what you can see when you just get out and have a closer look. For me, it is when the magic happens. The world comes alive and so does the light. The world has a different perspective.
Courage is a part of getting the best image. Getting out of the car sometimes takes a lot of courage. But it also makes a huge difference in what you will see.
To get the courage, you need the commitment.
Get rid of that zoom lens and try a prime. You'll begin to see the world in a very different way.
In photography, one thing leads to another. In photography, opportunity usually comes from being in the right place, taking a chance, and expecting the unexpected.
Just be cautious and always be safe.
Other links:
I cover many photographic topics and techniques in my book.  – Great Photography book for any creative Photographer.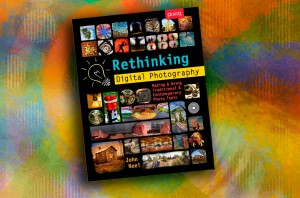 Rethinking Digital Photography – John Neel
NOTICE of Copyright: THIS POSTING AS WELL AS ALL PHOTOGRAPHS, GALLERY IMAGES, AND ILLUSTRATIONS ARE COPYRIGHT © JOHN NEEL AND ARE NOT TO BE USED FOR ANY PURPOSE WITHOUT WRITTEN CONSENT FROM THE WRITER, THE PHOTOGRAPHER AND/OR lensgarden.com. THE IDEAS EXPRESSED ARE THE PROPERTY OF THE PHOTOGRAPHER AND THE AUTHOR.