There are boundaries to what a landscape might be, but those lines are still being drawn at an ever-increasing scale.
The lines that define what a landscape can be are as varied as the perspectives they expose and as open as the subjects they embrace.
There is no need for a landscape to contain the customary vista of trees and forest or streams and fields. A landscape can be created that has none of those things. A landscape is a concept. It is a way of thinking about a subject in ways that construct intellectual associations to the things we understand land to be. A photograph of something can infer a relationship between that thing and the idea of landscape.
The inside of a grocery store or a mall can be a landscape. So can the view from inside a car, a picture in a window, or a reflection in the eye. War images are often viewed as landscape. The palm of ones hand can mimic the lines of a landscape and so can the surface of a rock or an image of a nude.
There are no rules about landscape except for perhaps the artist's intent. Carl Chiarenza is a landscape photographer who uses the abstraction of found materials to create an abstracted reference to the land. Nathan Lyons is also a landscape photographer who uses the found details within urban settings to define what landscape has become.
A person in landscape does not generally make it a portrait. Rather, it makes it a landscape with a person. What is shown within the framing can alter the way a viewer might interpret the meaning of what they see. The object/subject is at least in part, what sets the character of the scene. It has a direct influence on the way we interpret the overall image. Small details can do the same. What you include throughout the frame will determine the way it is read and what your viewer takes away.
The concept of what a landscape can be can include things that nobody has yet to consider. It means that landscape as we know it, can be created by utilizing something seemingly disconnected as a trigger for realizing a greater panorama. Landscapes can be what the mind imagines and what the subjects/objects suggest.
What counts in the art of creating a landscape is the countless ways in which a subject can be interpreted.
Not only can a subject suggest a reference to the land, but also the land itself can become a metaphor for things that may seem somewhat obscure to what is normally conceived in landscape terms. For instance, a landscape might be more about time than it is about place. It can have psychological implications or maybe a sense of decay or loss. An image of the land can imply such things as ownership, production, chaos, wonder, scale, pollution, mortality, existence, abundance, devastation, isolation, as well as produce supernatural, religious and spiritual reactions.
The term landscape has very broad interpretation. It need not be limited to the usual trite representations we've seen a million times before. The best landscapes are those that bring new meaning, new vision, and a new response.
Don't limit the landscape to a narrow viewpoint – widen it to include your own vision, which will also alter your own horizons.
Please have a look at some of my other posts here.
I cover many photographic topics and techniques in my book.  – Great Photography book for any creative Photographer.
I am currently working on a new book about photography, which I will announce when it comes closer to the publishing date.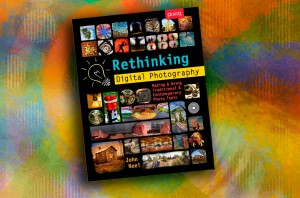 Rethinking Digital Photography – John Neel
NOTICE of Copyright: THIS POSTING AS WELL AS ALL PHOTOGRAPHS, GALLERY IMAGES, AND ILLUSTRATIONS ARE COPYRIGHT © JOHN NEEL AND ARE NOT TO BE USED FOR ANY PURPOSE WITHOUT WRITTEN CONSENT FROM THE WRITER, THE PHOTOGRAPHER AND/OR lensgarden.com. THE IDEAS EXPRESSED ARE THE PROPERTY OF THE PHOTOGRAPHER AND THE AUTHOR.