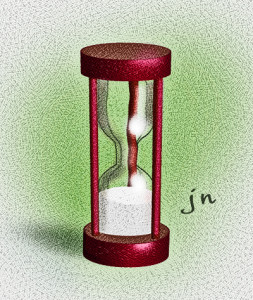 3 Minutes…Click!
Flip….Drive….Stop…Shoot!…repeat
When I was learning how to take pictures, I used one of these to get me out of the car when driving around looking for something to photograph.
It is called an egg timer or a sand glass. The basic idea is that you flip it upside down and when all of the sand empties into the bottom, you stop and get out of the car. A good well-made egg timer should give you a full three minutes of driving time.
I used to make a pact with myself that I would take at least one photograph before getting back into the car.
The main reason that this simple idea works, is that it forces you to walk around a given location to find something interesting that you would likely miss if you just kept on driving. It is amazing how you begin to realize the smaller things and even the big things seen from a different perspective.
Egg timers like the one shown are hard to find these days. You might find one on eBay, a Dollar Store or at a garage sale. I bought mine a long time ago, like I said, when I was learning how to take photographs. If you can't find an egg timer, you can probably use any kind of countdown timer. If you look on the web, you might find a nice egg timer app for you iPhone, iPad, iPod or some other amazing gizmo you might own. I like to keep things pretty simple. My egg timer does a great job and it doesn't need batteries.
When I began shooting images, I had at least a few zoom lenses. The problem with zooms, is that it is too easy to stay in the car and/or shoot from a distance. I used to call zoom lenses "lazy lenses". Eventually, I got rid of the zoom lenses and began taking fixed focal length lenses with me on my photographic jaunts. I have found that some of the best zoom lenses are your own two feet.
Walking is the best way to see the world. Staying in your car is the wrong thing to do. I always find that the view is very different when I get out and walk. When you are walking or just out of the car, you are free to look around. You can concentrate on the smaller details; you can see more of what there is to see. Once you allow yourself to practice this simple technique, you just may find that a single shot is not enough. All of a sudden, you begin to see great things to shoot.
I lovingly refer to my egg timer as "My get your A## out of the D@%# car and see the world device.
The biggest problem you'll have, is finding a good safe spot to pull over.
.
NOTICE of Copyright: THIS POSTING AS WELL AS ALL PHOTOGRAPHS, GALLERY IMAGES, AND ILLUSTRATIONS ARE COPYRIGHT © JOHN NEEL AND ARE NOT TO BE USED FOR ANY PURPOSE WITHOUT WRITTEN CONSENT FROM THE WRITER, THE PHOTOGRAPHER AND/OR lensgarden.com.