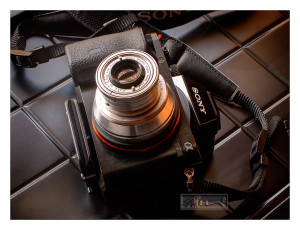 "Not a Zeiss,…but still pretty nice…for the price".
This is one of my latest and very inexpensive new camera toys. It is a marriage between one of my old lenses taken from an Argus C3 Brick and mounted to my Sony A7. It is a nice little lens that produces some pretty nice results and is great fun to use.
As of late, I have been wondering why nobody has made an adapter for the Argus lenses that were used on the Argus 35mm cameras of film fame. The Argus was once one of the most popular cameras ever produced.
I was almost to the point of making my own mount when I discovered an eBay dealer who has begun making and selling adapters for Argus lenses to be mounted to digital cameras.
Today, I was finally able to mount a 1950's Argus Sandmar 100mm f4.5 lens to my Sony A7 using an adapter that was sent to me for review. The Sony has a full frame sensor that is the same size as the 35mm film frame of the Argus C3, which this lens and its siblings were originally designed.
The standard Cintar 50mm lens that came with the Argus C3 was produced in the USA by several companies including Bausch and Lomb and Graf Optical. There were several additional focal length lenses available that were produced in Germany and Japan. The Tele–Sandmar 100mm and the Sandmar Wide 35mm lenses were made for the Argus C3 in Munich after WWII by Enna-Werk, US Zone, Germany. Other lenses were produced by Soligor in Japan.
Argus was a camera manufacturer located in Ann Arbor, Michigan USA. The C3 was produced from 1939 – 1966. The C3 is a heavy, somewhat quirky and slightly cumbersome camera that became extremely popular in its day. The nickname – "The brick" comes from its shape and its weight. It is one of those cameras that has a certain appeal for its nostalgic looks and its unique design. For many including myself, it is a camera to love.
You can read more about the C3 here – The Argus C3 – "The Brick"
What is most often seen as a whimsical and somewhat unwieldy contraption, is actually an excellent image-maker. The lens is a little known secret to its success. The Argus Cintar f.3.5 is tiny lens that can be removed. The Argus was an interchangeable lens camera and the Cintar is a potentially worthy optic for serious work.
The lenses shown here cost me what I paid for a complete outfit purchased off of eBay, which included a 100mm Sandmar, 35mm Sandmar, 50mm Cintar, Flash, bulb, a beautiful Argus C3 "Brick", with leather case and a bunch of accessories – all in near mint condition, which I purchased a few years ago for around $30.00.
The basic adapters produced and sold by Rami (see link below) currently cost roughly $40.00 apiece.
What I really love about these lenses is their miniature size and swirly bokeh. I can carry all three lenses in a jacket pocket.
Soon after mounting, I shot the tree image as a test for the bokeh effect with the lens wide open and defocused. In fact, the swirly bokeh effect seems to be common to all three of these Argus lenses.
So far, I've been pretty impressed with the image quality and sharpness these lenses produce on my Sony A7.  While they are probably not in the same league as my Nikkors or Takumars, they are a ton of fun to shoot because of their very small size and extremely low price-tags.
These Argus adapters will also work on SONY NEX and Alpha APS sensor cameras. However, there will be a crop factor that will increase the apparent focal length by approximately 1.5 X. Rami also makes a line of adapters for other camera lens combinations for still and cine use.
From what I know, these adapters are manufactured right here in the USA. They also look pretty nice on the front of my A7.
If you are interested in purchasing or would like to see other rare, interesting, and reasonably priced still and cine lens adapters please contact – Ramir73 on eBay  ………And please tell him you read it here on LensGarden.com. He also has a new website at – Rare Adapters.
I cover many photographic topics and techniques in my book.  – Great Photography book for any creative Photographer.
I am currently working on a new book about photography, which I will announce when it comes closer to the publishing date.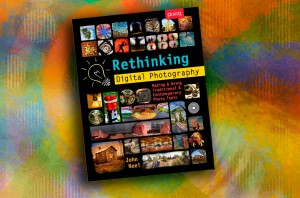 Rethinking Digital Photography – John Neel
NOTICE of Copyright: THIS POSTING AS WELL AS ALL PHOTOGRAPHS, GALLERY IMAGES, AND ILLUSTRATIONS ARE COPYRIGHT © JOHN NEEL AND ARE NOT TO BE USED FOR ANY PURPOSE WITHOUT WRITTEN CONSENT FROM THE WRITER, THE PHOTOGRAPHER AND/OR lensgarden.com. THE IDEAS EXPRESSED ARE THE PROPERTY OF THE PHOTOGRAPHER AND THE AUTHOR.