Lytro 3D
What the heck is Lytro 3D?
Lytro is a unique type of imaging system. It uses a new technology called Light Field imaging. Light field can do many things that a conventional image can't even begin to do. The most renowned aspect of the Lytro is its ability to allow the image to refocus after the shot has been made.
The thing about Light Field imaging is that it basically captures all light rays from the scene. Imagine capturing every ray of light from every angle that is allowed to pass into the lens. This opens the door for many exciting possibilities.
One of which is the ability to zoom into and back out of a scene without post processing in a video application. Another is something called perspective shift. In essence, this means that you can alter the location within the field of view from where the image is seen in both the horizontal and vertical directions. Again this can be done after the image has been captured.
Since Lytro's introduction, there have been  a few other implementations including its latest ability to produce stereo 3D imagery. What makes this a such new concept, is that it is all achieved with a single lens and with a single exposure capture.
The stereo effects that are in the latest version can be seen in full color on a 3D TV or as Anaglyphs using Red/Cyan glasses. The images in this article have all been produced as anaglyphs.
Early on, I realized this was going to be a unique capability long before Lytro introduced the idea and way before they implemented it into their latest software update. To see how well it might work, I produced a number of 3D images from screen captures of the right and left side "views", which are obtainable from Lytro's perspective shifts.  From these crude versions, I assembled a few different types of Stereo images for viewing in different ways. I played with Red/Cyan Anaglyphs, Cross View , and Wiggle 3D. I will try to post a few of those in another post in the near future.
With the current configuration of the Lytro camera, the full effect of 3D is limited to the physical size of the lens diameter. Basically the lens can only see a limited ocular offset. By that, I mean there is not enough distance between the left and right views to allow full  stereo at anything but close range. The stereo effect is most prevalent at very close range and is best at distances within a few feet of the camera. Any subjects at a distance beyond that range will not seem to have much of a stereo effect at all. However, given enough time, I am sure that future generations of this camera will be much more capable of more distant results. Larger diameter lenses will allow for more separation between the right and left views.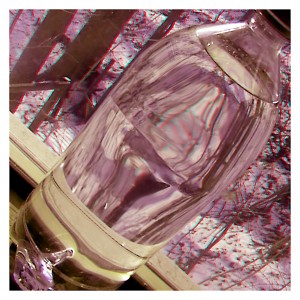 For now, the stereo effect is one more sign for greater things to come. It shouldn't be long before we will see many more imaging possibilities from this amazing light gathering technology.
I believe that one day the Lytro light field concept will be in all kinds of digital cameras. The biggest problem that light field faces is in the amount of data required to produce an image. Once that problem is overcome, we will likely see light field video as well. Imagine a video that can be focus altered, zoom altered and perspective altered or transformed into a 3d movie after the video has been recorded. Imagine further the kinds of interaction that one might have with such capability.
To view the images shown here, you will need to use a pair of Red/Cyan Stereo Glasses. If you have bought my book, you can find a pair in the back cover.
My book – Rethinking Digital Photography
Read more about stereo photography and other great photographic techniques in my book Rethinking Digital Photography.
NOTICE of Copyright: THIS POSTING AS WELL AS ALL PHOTOGRAPHS, GALLERY IMAGES, AND ILLUSTRATIONS ARE COPYRIGHT © JOHN NEEL AND ARE NOT TO BE USED FOR ANY PURPOSE WITHOUT WRITTEN CONSENT FROM THE WRITER, THE PHOTOGRAPHER AND/OR lensgarden.com. THE IDEAS EXPRESSED ARE THE PROPERTY OF THE PHOTOGRAPHER AND THE AUTHOR.