"Thank you for this, John — pertinent and insightful writing in a time when everyone's got snake oil to sell to every wishful photographer." – Comment from a reader
After reading this comment, I began to think of what is actually required to produce a photographic image.
There are way too many so called experts in this game we call photography. The wannabes and the techno-nerds seem to scramble after any little techno-bit they can find. They rally at the tiniest detail of the next camera, the next lens, or the latest and greatest gadgets that pops into the ether-sphere.
Snake oil is all too common. It tends to cloud the imagination and get in the way of creativity and seeing.
It is as if you purchase the latest and greatest contraption, your image making will triumph and magically transform you into some kind of visual superstar. That is simply not true.
Great photography is about insight, seeing reality, creativity, interpretative skill, having something to say, and developing photographic skills. A great image-maker can produce a great image with nearly any camera and nearly any lens.
To make an image is an act of seeing and responding to what you see. It is an act of creative interpretation of the things we encounter. In my way of thinking, it is a way to find those subjects in which I might be able to produce a much more profound response. It is a way to transform a subject into a metaphor for something more insightful. That concept does not require the biggest or the best. It doesn't require the newest device, the most recent camera, or the latest trend in gear. It requires a lens, a box, the light and a creative mind to see.
All it takes is some imaginative use of the equipment you probably already own. Photography is about light. It is also about enlightenment. Neither of these requires much more than a box and a lens to capture. A digital camera and a film camera are basically the same in that regard.
That next gadget may be cool, but it isn't going to make you a photographer. In fact it really doesn't make you much of anything other than another crazy gadget-head with a newfangled camera contrivance.
It also makes you gullible to all the hype and to all the snake oil that is out there just waiting for a sucker like you.
Learn to use what you have with the skills you possess. Learn to see the light for what it is. That is photography at its best.
Please have a look at some of my other posts here.
I cover many photographic topics and techniques in my book.  – Great Photography book for any creative Photographer.
I am currently working on a new book about photography, which I will announce when it comes closer to the publishing date.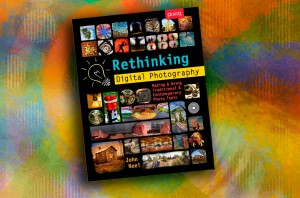 Rethinking Digital Photography – John Neel
NOTICE of Copyright: THIS POSTING AS WELL AS ALL PHOTOGRAPHS, GALLERY IMAGES, AND ILLUSTRATIONS ARE COPYRIGHT © JOHN NEEL AND ARE NOT TO BE USED FOR ANY PURPOSE WITHOUT WRITTEN CONSENT FROM THE WRITER, THE PHOTOGRAPHER AND/OR lensgarden.com. THE IDEAS EXPRESSED ARE THE PROPERTY OF THE PHOTOGRAPHER AND THE AUTHOR.