Pinhole – Cameras from Nothing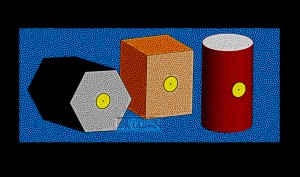 If you look at the possibilities of pinhole camera design, you might begin to see that pinhole imaging is a great way to be creative as well as resourceful. 
Pinhole opens up possibilities that go way beyond the normal concepts of image making.
One of the beauties of the pinhole is that the shape of the container used transforms the images produced. A short box makes wide-angle imagery. A long box becomes a telephoto. A curved box can be used to create many different outcomes including a fisheye effect. The relationship of the pinhole to the light sensitive material can be almost any angle or distance. The resulting images can be realistic or distorted depending on the way the light strikes the surface of the photosensitive materials used.
Besides the shape of the container, there are other things that a pinhole is good at. The long exposures that a pinhole camera usually requires allow the subjects to move over time. The recorded movement can create interesting blurring or capture a busy space such as a crowded street as if there were no people or cars.
Nearly any light tight container can be turned into a pinhole camera.
I have used cigar boxes, tin cans, matchboxes, old cameras, parts of old cameras, clay, cookie tins, tea tins, books and many other lighttight containers. There have been 'pinholers' who have made cameras from old vans, wooden shacks, garbage containers, and tents. The largest pinhole image ever captured was made inside of an old airplane hanger. The image recorded was the space outside the building as projected through an oversized pinhole mounted in the hanger door. Most 'pinholers' start out pretty small and pretty basic.
Some amazing pinhole images have been created from things found in nature that were transformed into light tight containers. Several that I remember from books and have found on the web include a converted walnut shell, an eggshell and a pumpkin. I have seen a few made from skulls, one of which was said to be human. If it can be made light tight, it can likely be made into a camera. People have made pinhole cameras out of old Volkswagen buses, camping trailers and refrigerator boxes.
The limits of pinhole creativity are only in the imagination. When I was at Kodak as an illustrator working within the design department, I suggested that they might design at least a portion of their packaging to be easily converted into a pinhole camera. I saw it as a way for them to promote film, which was their biggest business at the time. It would have opened the doors for many opportunities. Among them, it allowed a second use for otherwise disposable resources. Like so many other ideas, they just did not get it. Marketing is not always open-minded.
Recycling is actually one of the more compelling reasons for why I love pinhole photography. There is no real reason that most packages and containers can't have a second chance. I believe that designers should take this into account with everything they produce. The environment might benefit as well. The fewer things we discard and the more things we can reuse, the better. That is another great reason why so many people do pinhole.
I am a photographer that loves to experiment. Pinhole photography is a great way to learn about light. It is a crazy tool for making some pretty unique imagery that would be impossible to create with a lensed camera.
To transform a simple container into a camera is a great way to make images and a playful way to gain a huge amount of creative gratification.
All you need to make an image is a light tight container and a pinhole aperture. To capture it, you'll need a light sensitive material.
Worldwide Pinhole Photography Day is April 26, 2015
Read more about Pinhole Photography and other great photographic techniques in my book Rethinking Digital Photography.
NOTICE of Copyright: THIS POSTING AS WELL AS ALL PHOTOGRAPHS, GALLERY IMAGES, AND ILLUSTRATIONS ARE COPYRIGHT © JOHN NEEL AND ARE NOT TO BE USED FOR ANY PURPOSE WITHOUT WRITTEN CONSENT FROM THE WRITER, THE PHOTOGRAPHER AND/OR lensgarden.com. THE IDEAS EXPRESSED ARE THE PROPERTY OF THE PHOTOGRAPHER AND THE AUTHOR.