"There is an amazing and wonderfully serendipitous phenomenon that happens a lot in the work I do. I often see it in the works of others as well. It is perhaps a part of my attraction to a subject that I seem to place myself in the most rewarding position for catching this great bit of detail. I've grown to look for it to happen. But most of the time, it just occurs. It is one of those things that makes an image that much more wonderful. It is sometimes referred to as an echo.
Echo is a great way to put it. It is an echo of the subject or perhaps a reflection that mimics something else in the image to the point approaching spiritual coincidence.  It can be another subject, a gesture, a movement, a bit of light, a pattern, or perhaps a mark on a wall, which is similar or in some kind of synchronous harmony that supports the overall concept of the image. It doesn't always occur. But when does, it is marvelous to see." – John
Please have a look at some of my other posts here.
I cover many photographic topics and techniques in my book.  – Great Photography book for any creative Photographer.
I am currently working on a new book about photography, which I will announce when it comes closer to the publishing date.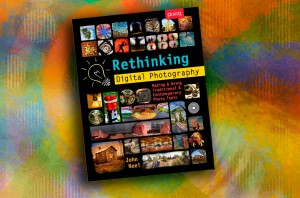 Rethinking Digital Photography – John Neel
NOTICE of Copyright: THIS POSTING AS WELL AS ALL PHOTOGRAPHS, GALLERY IMAGES, AND ILLUSTRATIONS ARE COPYRIGHT © JOHN NEEL AND ARE NOT TO BE USED FOR ANY PURPOSE WITHOUT WRITTEN CONSENT FROM THE WRITER, THE PHOTOGRAPHER AND/OR lensgarden.com. THE IDEAS EXPRESSED ARE THE PROPERTY OF THE PHOTOGRAPHER AND THE AUTHOR.