The luck of being in the right place at the right time implies a certain amount of foresight.
Photography is a quest to find great images. But for me, it is best to look with some sort of intention.
I believe in serendipity and I believe in luck. It really does occur. But it seems a little too arbitrary to count on it just happening by itself. To me, luck is a result of looking for the right stuff and finding what you need. Luck is what happens as you do.
By working within parameters, you end up with a body of work that makes sense. To me, photography is more about being in the right frame of mind in the place that you are in and in the places that you are going to. The images seem to pop out of nowhere. The happiness is when you find what you are looking for or when you somehow make it happen.
Anticipation is a big part of making images. Aimlessness, while it opens the possibility of seeing, is usually not a very rewarding enterprise when it comes to consistency in one's work.
Once there, and in the moment, you simply want to be prepared. Your camera is set, your eyes are wide open and you are in a heightened state of awareness.
The expectation of where things might occur is how I usually work. By becoming aware of probability, you increase the possibility to see what you came for. You will likely see what you know is there. You are in the now. The reality of what you find is always a surprise and often, the occurrence is much greater than you could have imagined.
Intention doesn't narrow the creative possibility. I believe it simply makes the goals more perceivable. It makes it easier to detect it when it happens. Serendipity seems to follow in droves. It comes out of what you do to make it occur. Awareness creates a heightened sense of your surroundings, which in turn advances the opportunities for seeing.
It is not that you should look for anything specific. If you look too hard, you will probably not find it. It is more a matter of knowing you are in the right place. But once you are there, you need to free your mind of preconceived ideas. You need to simply be aware of what is around you.
The happy accident becomes more of a happy expectation or likelihood. It is something you can feel when you are near it. There is excitement in knowing that something is within sight that you know will make a great image.
In the process, you also see the things around you in new ways.
The act of shooting for me is when I am in the groove – or rather, in the moment. It is that instant when the only thing I want to do is realize the subject and capture it at the apex of its presence. At that point, the moment takes over, the mind is still but focused and the image becomes what it wants to become.
To me, photography is a hunt where I am the hunter… as well as the thing hunted. You might call it –  becoming your subject. It is in readiness that the now reveals itself ……………click! ……click!
To know a little about what you are looking for can help get you to a place where it will most likely happen. It is also a good idea to be in that groove at any time you can be in it. Serendipity happens when you know it is there. It works in the now – no matter how long that now might last.
But then again, it can happen anywhere. Just know that it can and that it will.
All you need after that is to make it happen.
Make your luck happen by being everywhere in the right moment.

Please have a look at some of my other posts here.
My latest book – Focus in Photography – John Neel
Rethinking Digital Photography – John Neel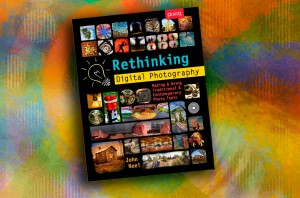 NOTICE of Copyright: THIS POSTING AS WELL AS ALL PHOTOGRAPHS, GALLERY IMAGES, AND ILLUSTRATIONS ARE COPYRIGHT © JOHN NEEL AND ARE NOT TO BE USED FOR ANY PURPOSE WITHOUT WRITTEN CONSENT FROM THE WRITER, THE PHOTOGRAPHER AND/OR lensgarden.com. THE IDEAS EXPRESSED ARE THE PROPERTY OF THE PHOTOGRAPHER AND THE AUTHOR.