"The trick in photography is to anticipate the luck." – author
For many photographers, luck is something to cultivate. It is the surprise that you are looking for when you are shooting. It usually happens when you are totally aware of the moment. In most cases, it means to be in the right place at the right time.
It also means to be aware that there is more than likely something that is about to happen, which has all of the elements of a great image. If luck will have it, you might just capture something amazing. Meaning, that when your skill with a camera, your vision, the light and the subject come together to form a photograph, there is something that will very likely make the results much more worthwhile.
While much of the practice of photography relies on the capabilities of the photographer, it also relies on serendipity and one's knowledge of the subject. Even when one has a goal of creating a certain type of image, there is always a chance element that when recognized, makes the image better.
For me, luck is a four-letter word for refining photographic greatness. It is the thing that I look for when I shoot. It is also the thing I strive to capture. Usually, it happens in an instant of time. But it can also happen over an extended time frame.
The thing I find helps the most is to be IN the moment. The thing that happens when you are one with the subject is called a heightened awareness. The full effect of which is not revealed until the image has been captured. It shows up in the final outcome. The best images display many surprising details that might best be viewed as a stroke of luck.
I believe, however, that luck is a tool that a great photographer understands and uses to advantage. While you can't always see it, you can almost always feel it when it is there. Your awareness level becomes enhanced and you point your vision at it and fire the shutter.
I believe that luck is a joyride of consciousness. It is when you are in control of the subject to the point where serendipity can take over. It is for me, a letting go of sorts. It is a split second release from your imagined outcome. It is the recognition that something great is about to happen but letting luck produce something even greater.
Luck in imaging is something to strive for.
Here is a link to my latest photography book – Focus In Photography  
I cover many photographic topics and techniques in my first book as well.  – Great Photography book for any creative Photographer.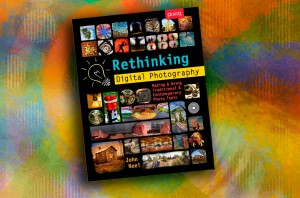 Rethinking Digital Photography – John Neel
NOTICE of Copyright: THIS POSTING AS WELL AS ALL PHOTOGRAPHS, GALLERY IMAGES, AND ILLUSTRATIONS ARE COPYRIGHT © JOHN NEEL AND ARE NOT TO BE USED FOR ANY PURPOSE WITHOUT WRITTEN CONSENT FROM THE WRITER, THE PHOTOGRAPHER AND/OR lensgarden.com. THE IDEAS EXPRESSED ARE THE PROPERTY OF THE PHOTOGRAPHER AND THE AUTHOR.