Art is abstract thinking that is practiced by the image-maker in the making of an image, which in turn becomes obligatory for the viewer in order to understand. It is a puzzle that works in two parts. It requires that something is created and that something is appreciated.
However, it is not quite that simple.
The first is the artist's conceptual response to a particular subject, while the second is the viewer's reflection on what is shown. The job of the artist is to visualize. It is the viewer's job to decipher. Art is an abstract puzzle.
By abstract, I am not speaking of abstract art. I am talking about the way art is conceptualized. Art is an idea. Art deals in the abstract, which means that it twists what is shown into something that becomes a little more abstract for the purpose of inducing thought. The artist sets up a visual clue of sorts, which requires a response of some kind. In simple terms – the artist (meaning in this case, the photographer) encodes – and the reader/viewer decodes.
In any artistic work, including photography – the work is not usually conceived by accident. Great art works because there is something bigger to be realized than the obvious appearance of the subject/object shown. This requires a certain level of skill to conceive, as well as an open-minded approach by the viewer.
A Photographer trained in the arts, tends to see the world in terms of conceived ideas that carry through in their works. That is one way that an artist maintains a particular focus, which is evident throughout the work they produce. To see the world through ideas makes it easier to see what you need to see.
Art is not an accident. It is the realization of a visual riddle. A visual riddle it seems is a kind of poetic visualization.
Please have a look at some of my other posts here.
I cover many photographic topics and techniques in my book – Rethinking Digital Photography. Great Photography book for any creative Photographer.
I am currently working on a new book about photography, which I will announce when it comes closer to the publishing date.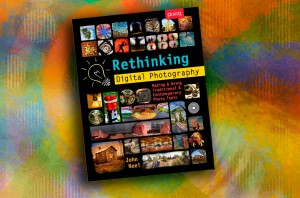 NOTICE of Copyright: THIS POSTING AS WELL AS ALL PHOTOGRAPHS, GALLERY IMAGES, AND ILLUSTRATIONS ARE COPYRIGHT © JOHN NEEL AND ARE NOT TO BE USED FOR ANY PURPOSE WITHOUT WRITTEN CONSENT FROM THE WRITER, THE PHOTOGRAPHER AND/OR lensgarden.com. THE IDEAS EXPRESSED ARE THE PROPERTY OF THE PHOTOGRAPHER AND THE AUTHOR.