Black is Beautiful, Cool and Professional…But there are good reasons for camera black than you might think.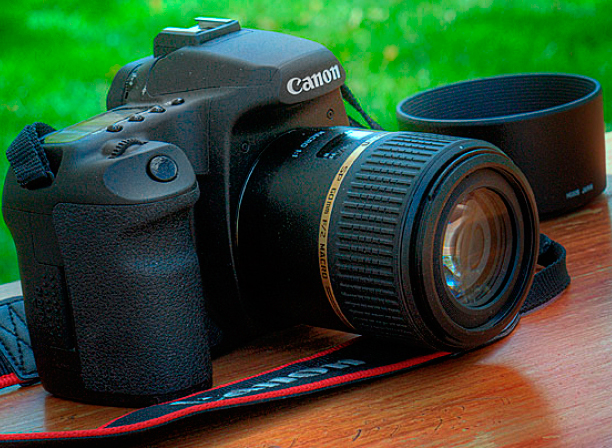 Black cameras are usually synonymous with professional grade cameras. Black makes them stylish, sexy and expensive looking. A black DSLR makes a statement about your status as a camera user. It makes you look professional. Black cameras may look cool but there are actually a number of very good reasons why pro cameras are produced in black.
Initially, professional cameras were mostly used in photographic studios. When using artificial lighting, there is always a good chance that the camera could end up as a reflection in some glass or metal object being photographed. Consequently, serious photographers needed to be aware of reflections that could spoil their photographs. Chrome cameras made it difficult to keep reflections to a minimum. At some point, manufacturers decided to make professional cameras black. In most major studios, the tripods, light stands and other professional hardware are usually black for the same reason. Graphic arts cameras and copy cameras and lenses would usually be masked off with black material to reduce reflections off of the copy glass.
Some photographers will go as far as painting out or taping over the camera names on the front of the camera and the white lettering around the front of the lens to eliminate any chance of reflection. For the same reason, macro lenses are generally black when seen from the front with the lens type and other lens info printed around the barrel where it can't reflect off the subject. Some studio photographers intentionally wear dark clothing as a way to avoid unwanted reflections. Likewise, camera straps with bright logos and camera names are also avoided.
Besides being less reflective, black cameras are usually less conspicuous and are better choices for some types of photography where the intrusion of the camera is to be avoided. Street photographers and photojournalists usually prefer to use cameras that meet this requirement.
Most cameras seem to be black these days. However during the past few years we have seen a number of camera companies break away from the monotony of black. Some manufactures are producing bright colored as well as multi-colored DSLR cameras that might appeal to certain demographics. Granted many users will rarely need to worry about their cameras being reflected because they are not studio photographers. For most people, a brightly colored camera might not be a good idea. Bright colors can make it easier to find and more difficult to lose.
However, if you plan on doing much professional work, it would be best to think of buying a black camera for all of the good reasons mentioned above.
During WWII, cameras such as the 35mm Bolsey or the Kodak Signet 35mm used by the military were painted olive green as a form of camouflage. Today, many wildlife photographers use lens and camera covers that are imprinted with camouflage as a way of hiding from their subjects.
Black cameras haven't always been that popular or common. During the 1950's through to the 1980's, the most common SLR and rangefinder cameras were chrome or polished aluminum, which was usually trimmed with black leather or leatherette. Early box cameras as well as popular snapshot cameras were usually made of wood  or stamped metal  that was covered with a black leather-like skin. Others were made from an early  plastic material called Bakelite, which was commonly black or a dark reddish brown in color. In the 1960's there were many inexpensive snapshot cameras produced with brightly colored bakelite and other plastics.
Many readers may not realize that the era between world wars was probably one of the most colorful periods for cameras. Many companies produced their cameras in a variety of colors in an attempt to capture a wide range of users. Cameras were also decorated with what was called art deco styling, which added a bit of "modern" decoration making them more jewel-like, fashionable and trendy.
Please have a look at some of my other posts here.
NOTICE of Copyright: THIS POSTING AS WELL AS ALL PHOTOGRAPHS, GALLERY IMAGES, AND ILLUSTRATIONS ARE COPYRIGHT © JOHN NEEL AND ARE NOT TO BE USED FOR ANY PURPOSE WITHOUT WRITTEN CONSENT FROM THE WRITER, THE PHOTOGRAPHER AND/OR lensgarden.com. THE IDEAS EXPRESSED ARE THE PROPERTY OF THE PHOTOGRAPHER AND THE AUTHOR.