When I go to a gallery, I usually know that when I leave, I will want to capture something with my camera. Almost always, I feel the need to create. I feel energized, full of ideas and anxious to find new subjects.
The gallery is a place that can spur your imagination. It gives you a new perspective. A gallery is a place to peer into the minds of other creators.
A gallery is a place to see the true power of the art. It is a much more fulfilling experience than simply seeing images on an iPad or the computer. You get to see the actual art. You experience the surface, the true colors, the minute differences in tones, the actual details and the scale as it was meant to be seen.
The scale of the art is part of the total experience. So is surface, color, and detail. But there is more. The art is meant to give you something you can take away.
A gallery experience is a way to become a better artist, a finer photographer and a more knowledgeable viewer. The art you see is a real thing. You experience it first hand. It has a presence that is much more fulfilling. You feel closer to the artist. You can spend time up close or sit in front of it to ponder it's presence.
In understanding the art, you begin to understand the artist. In turn, you begin to see things differently. You find your own inspiration.
The time spent in a great gallery is time for realization, discovery and personal growth. A gallery isn't a place to rush the experience. It is a place for contemplation.
The act of looking at art is meant to be an experience. The secret is to have an open mind and to study (look hard) at the entire image. The act of looking is similar to the act of making. It is not only an act of appreciation, but an act of learning.
While it is a great thing to have access to the abundance of imagery that exists on the internet, the actual experience of any piece of art is minimal at best. For me, the gallery experience is the most effective way to experience art.
For me, the gallery experience has no equal.
Walking away from a great gallery show is walking away inspired.
Read about great photographic techniques in my book Rethinking Digital Photography.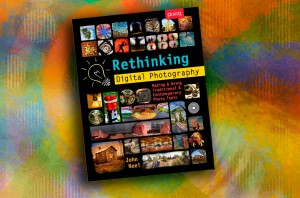 Rethinking Digital Photography – John Neel
NOTICE of Copyright: THIS POSTING AS WELL AS ALL PHOTOGRAPHS, GALLERY IMAGES, AND ILLUSTRATIONS ARE COPYRIGHT © JOHN NEEL AND ARE NOT TO BE USED FOR ANY PURPOSE WITHOUT WRITTEN CONSENT FROM THE WRITER, THE PHOTOGRAPHER AND/OR lensgarden.com. THE IDEAS EXPRESSED ARE THE PROPERTY OF THE PHOTOGRAPHER AND THE AUTHOR.