One of my to-do projects for the WPPD 2012 was to build a working 120 pinhole camera from a large kitchen matchbox.
Although I had built smaller 35mm pinhole cameras from regular matchboxes, I had never built one with this size matchbox before. So at the time, it was to be a work in progress.
Find out more about WPPD here –  Are You Ready? The next pinhole day is April 27, 2014 
The only thing I knew at that point was that that a large size matchbox has the same height dimension as a roll of 120 film. I also realized that 120 film which does not have a cassette, would require a much more robust system to make it function in this setup.
Now all I needed to do was make a chamber that would be light tight, add the pinhole, a shutter and create a way to advance the film to a new frame! I was pretty sure it would require some improvisation, a bit of luck and plenty of ingenuity to make it work.
This time around, I may alter a few things as I build another one for the next WPPD, which will be on April 27, 2014. I am sure that the results will be fun and with any luck, it will work as planned
Here is my original list of materials:
Glue stick and/or glue
Thin cardboard
Utility knife
Empty aluminum beverage can
Empty 120 film spool
Black plastic or photographic tape
Needle from a sewing kit or sewing needle
Black construction paper
Roll of 120 film
Scissors
Ruler
Paper clip
Book Board or Foamcore
Piece of black felt
Pencil
Self adhesive Velcro Strips
Fine point craft knife
At the end of the construction, I will post the results with detailed instructions on how to make one yourself.
This should be fun!
If you decide to tag along, I would encourage some innovative customization and tweaking to make your design a bit more personal. The whole idea is to have fun and take photographs with a camera that you build yourself and end up with a camera that will hopefully make some nice pinhole photographs.
Watch my posts for the results!
Have FUN!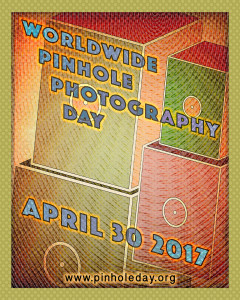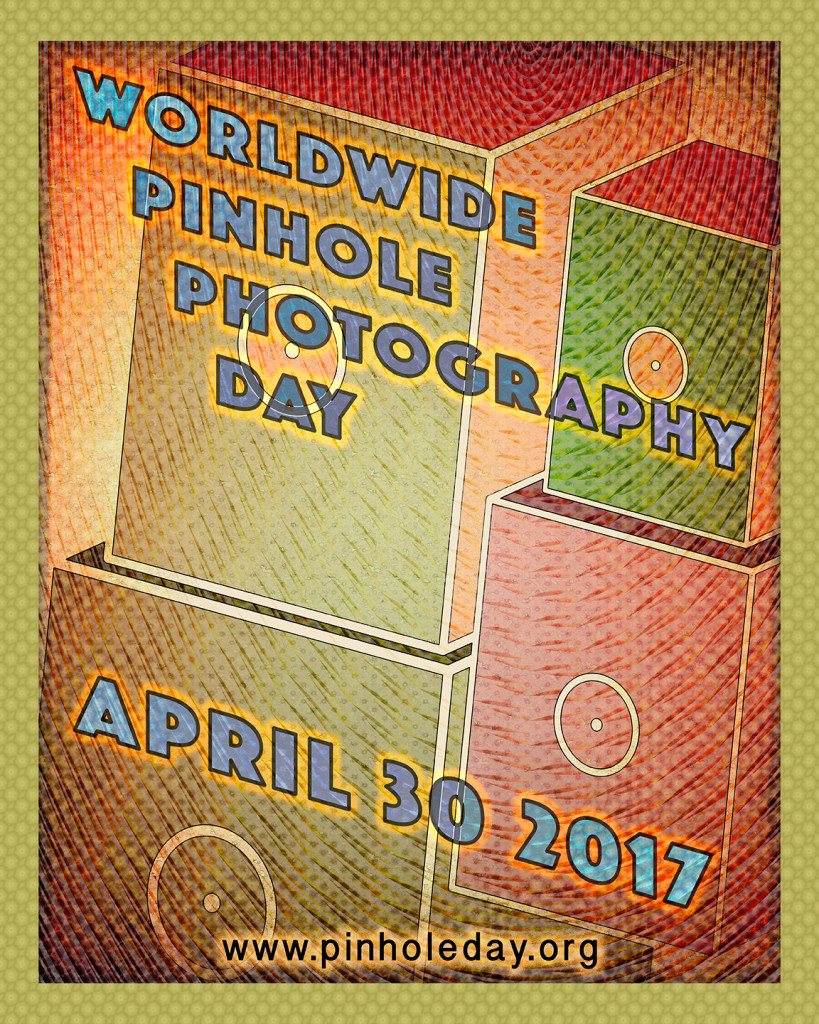 This is the WPPD PosterI I created for this years event – 2017.
Links:
Are You Ready? The next pinhole day is April 30, 2017
Get a 2017 WPPD poster here: 2014 Worldwide Pinhole Photography Day – Promo Posters
My book – Rethinking Digital Photography
Read more about Pinhole Photography and other great photographic techniques in my book Rethinking Digital Photography.
NOTICE of Copyright: THIS POSTING AS WELL AS ALL PHOTOGRAPHS, GALLERY IMAGES, AND ILLUSTRATIONS ARE COPYRIGHT © JOHN NEEL AND ARE NOT TO BE USED FOR ANY PURPOSE WITHOUT WRITTEN CONSENT FROM THE WRITER, THE PHOTOGRAPHER AND/OR lensgarden.com. THE IDEAS EXPRESSED ARE THE PROPERTY OF THE PHOTOGRAPHER AND THE AUTHOR.