I like to make people think about what they see. The story in an image comes from the response of the viewer. Captions make the image work differently. They tend to lead the viewer. I'd rather the viewer has their own interpretation. If anything, I find that a title sometimes does the trick. The viewer brings their own history to the table. It is best when they are forced to think.
I do what I can to steer the response within the image itself. After that it is what it is. If I have to explain it, it isn't free to do its thing. If an image requires a title, it is not speaking to the reader/viewer. It becomes more of a documentary image that requires a voice to tell us what is happening.
Art only needs an inner voice. Art is understanding through introspection. Art becomes self-reflective. It is meditative and requires the viewer to ponder what is shown within the artwork. Art is a meeting of the minds between the artist and the viewer. It asks you to look and to respond with open-mindedness. A great artist works with an open mind in order to discover. The artist is simply the first viewer in a visual puzzle that requires a mental focus to realize the essense of its message.
Please have a look at some of my other posts here.
I cover many photographic topics and techniques in my book.  – Great Photography book for any creative Photographer.
I am currently working on a new book about photography, which I will announce when it comes closer to the publishing date.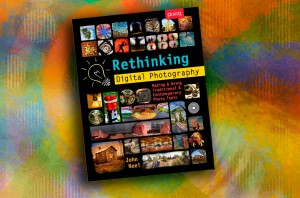 Rethinking Digital Photography – John Neel
NOTICE of Copyright: THIS POSTING AS WELL AS ALL PHOTOGRAPHS, GALLERY IMAGES, AND ILLUSTRATIONS ARE COPYRIGHT © JOHN NEEL AND ARE NOT TO BE USED FOR ANY PURPOSE WITHOUT WRITTEN CONSENT FROM THE WRITER, THE PHOTOGRAPHER AND/OR lensgarden.com. THE IDEAS EXPRESSED ARE THE PROPERTY OF THE PHOTOGRAPHER AND THE AUTHOR.